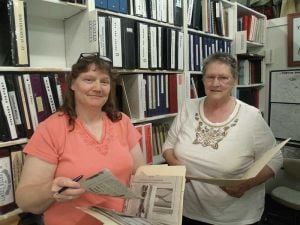 BROKEN BOW — As volunteers, a mother-daughter duo from Broken Bow has been helping people trace their roots for more than 35 years combined.
Now, one of them is getting paid for some of her service.
Tammy Hendrickson is the newest curator at the Custer County Historical Museum in Broken Bow. She took over the position Jan. 27. She and her mom, Rosalie McKnight, spend nearly every weekday there helping people put together pieces of their family puzzles.
Read the whole article by
CLICKING HERE.
Copyright © 2014 by Kevin W. Walker